Planting Roses
Choose an area, dig a hole, plant your roses and enjoy the beauty of the queen of the flowers.
Planting roses is as simple as that, only with few more considerations.
The season for roses normally starts in fall with the supply of fresh plants and not in spring. The catalog from the rose growers will mostly arrive during the summer months and will be valid for the whole following year.
If you start with your garden planning in March or April, don't be surprised that many varieties will be out of stock. This applies especially for novelties.  
Choose An Appropriate Place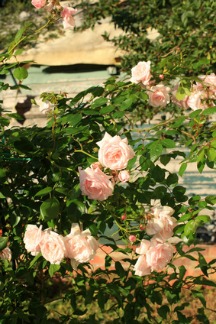 The Sunlight
The importance of a sunny area in your garden cannot be stressed enough. Although several varieties will grow very well at slightly shaded places, most of them prefer at least 6 hours of sun.
The result of insufficient sunlight will be fewer leaves, buds and blossoms. The rose will struggle to grow properly and the door will be wide open to diseases and pests. The plants prefer morning sun and afternoon shades.
Don't step into the trap and mix up sun with heat. A hot spot in front of walls causes stress to the plants and the result will be diseases and pests too. The place should be slightly aerated, to avoid hot spots.
The Wind
The other side of the coin is the wind. A slightly aerated site in front of walls and barriers is perfect to dry the leaves after rain. But roses will not grow in cold drafty areas. The very reverse will occur– they will die.
Protect your roses from wind and storm with hedges, fences or any other shelter.
Tip
Avoid to plant roses at sites where roses already grew,or exchange the soil down to 30 inches. Otherwise you will get poor growing results
The Soil
Roses normally are deep-rooting plants and sometimes grow as deep as 5 feet. They prefer deep-soil, which should be humic and sandy-loamy. Compacted soil layers sometimes cause soggy soil and your plants will show puny growth.
A good idea to prevent soil wetness is to plant your roses in raised beds.
Related Pages To Planting Roses