Essential Garden Tools
Everyday garden work needs essential garden tools nobody should do without
Among special rose tools, such as pruning shears or loppers, every gardener needs several basic tools that can help with almost any garden work.
I don't have a huge collection of tools, but I have all the things I need to make gardening an easy task. 
For my gardening equipment, I don't choose the cheapest tools, all my purchases last long and are no use-and-throw things.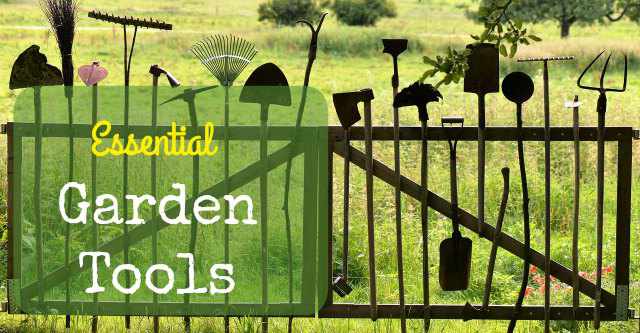 Before you buy essential garden tools, especially if you are a beginner gardener, you need to know what to look for. There are vast differences in quality and workmanship, and sometimes it's hard to distinguish which tools are worth to buy.

Choosing The Best Essential Garden Tools
It may look a bit funny to talk about gardening equipment when it comes to rose gardening, but the tools for digging, raking and weeding do not differ that much from the things needed for normal garden work.
Vice versa particular rose gardening tools like pruning shears and loppers are useful for the daily work in the backyard.
Unless you are not a gadgeteer, few quality essential garden tools will be sufficient for all of your gardening tasks.
Guide Through Essential Gardening Tools
On this page
You should also read…
Further information
Garden hoses and irrigation systems
What to wear in the Garden
Organize tool working place
Non manually operated garden tools
Which Tools Are Standard Garden Equipment?
If you take a look at the tool sheds of some hobby gardeners, you can't avoid the feeling that you accidentally walked in the garden department of a home improvement market:
Hundreds of tools for any garden work can be found.
Of course, it is nice to make gardening as easy as possible, but what do you need to work in your garden?
Garden Spade
A spade, not a shovel, is still one of the most useful tools for gardeners. Even for rose gardeners to dig the planting holes, moving small mounds of dirt, for cutting open bags for potting soil and for many other things.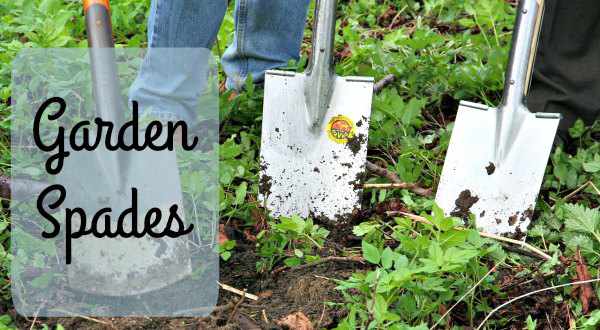 What to consider when buying a spade?

 Spades are available in many variations, qualities and lengths.
For models with a T-shaped or D-shaped handle, it is easy to check which is best for a back-friendly work.
Place the upper arm close to the chest and your hand on the spade handle. The spade should stand vertically on the ground. Is your forearm in a horizontal position?
Garden Fork
Digging with a spade has its disadvantages: Because of the disruption of the natural soil layer, a part of the soil life will be destroyed. The ground threatens to become muddy after the next rain.
In addition, digging strains the back.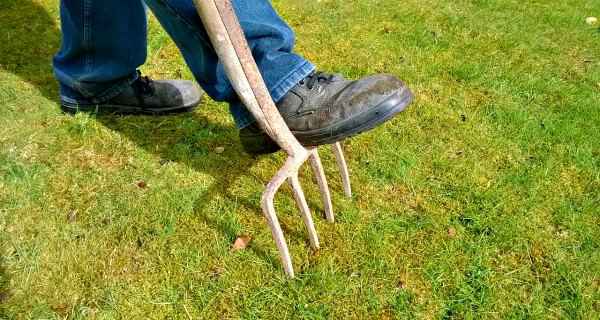 On lighter sandy and loamy soil, loosening and aerating is easier with a garden fork than with a spade: it is pierced vertically into the ground, and then pulled backward by 30 to 45 degrees. Herby, the soil gets numerous fine cracks.

When it comes to choosing a fork, as always, you should only buy a quality tool. Avoid cheap garden forks with welded on tines and those where the head has not been forged by a single piece of steel.
A quality fork should have square or V-shaped tines with diamond points for better soil penetration.
These weaknesses will always cause problems and sometimes turns gardening-fun into gardening-frustration.
Look for ergonomically, back-friendly designed essential garden tools like this D-handle ergo garden fork which comes with a lifetime guarantee. 

Garden Hoe
I had an old-style, heavy garden hoe in my tool set for many years and did not use it much because of its obvious disadvantages:
It was heavy

It was made in two parts
The two parts always wiggled or even fell apart
The handle was unwieldy and an ergonomically catastrophe
It was impossible for me to find any use for that garden tool.
But my neighbor, a retired garden professional, uses his perfect designed, lightweight tool for nearly every garden work. Digging small holes, break up the soil and weeding are only a few tasks to mention.
He uses this handcrafted garden hoe from the USA build to last a lifetime.
Garden Rake
There are two kinds of rakes considered essential garden tools:
Although I never considered a leaf rake useful because, again, I didn't have the best experience with that kind of garden tool that's why I mostly use a leaf blower.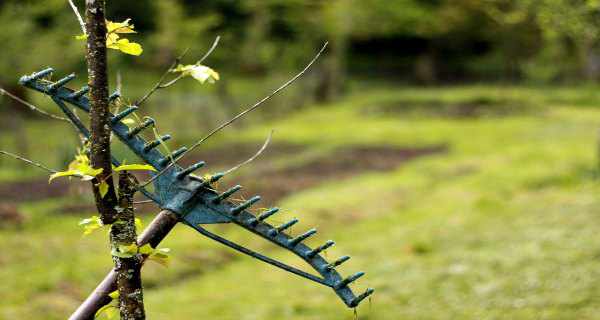 But as always, the usefulness comes with quality. Leaf rakes come with aluminum, fiberglass or wood handles. Lightweight and maneuverability are the main criteria to consider when buying a leaf rake. I would also look for a grip to avoid blisters.

The tines of a leaf rake are made from plastic, metal or bamboo.
I had an adjustable rake with metal tines and with wet leaves raking was a real tough job. The leaves always get clogged in the tines; I nearly become insane!
Rakes with plastic tines are robust and flexible as well as the bamboo are. I would prefer bamboo over plastic, for the environment's sake but it is not easy to get one.
Meanwhile, I tried this leaf rake with durable resin tines, and it works perfectly for my needs.
A landscape rake is useful for many things:
The landscape rake consists of two parts, the handle and the rake head and is available in several materials.
Handles are mostly made from wood, fiberglass, steel or aluminum and the tines from wood, bamboo, plastic, steel or aluminum.
Each material has their pros and cons, but as usual, when it comes to buying essential garden tools, durability, lightweight and maneuverability is critical.
Most gardeners will not need a very wide rake head, so 36" will be more than sufficient for most jobs. I prefer a tool with rounded teeth and a comfort grip. That's why I added this lightweight landscaping rake to my toolbox. 

Wheelbarrow or Cart
Without a wheelbarrow, life in the garden won't be easy. Even for rose gardeners, a cart is an essential tool in the backyard. Sometimes it is necessary to move soil, garden materials, heavy bags or compost and to be honest: It is time-consuming and exhausting without the help of a good and durable wheelbarrow.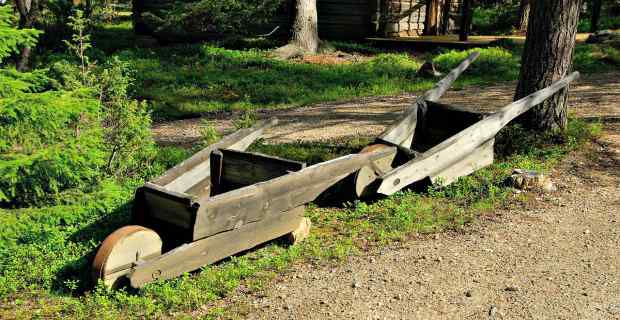 With hundreds of products available on the market, it's hard to make a choice, and it is best to ask oneself a few fundamental questions about wheelbarrows:

What are they made from?
Plastic or steel is the choice you have, because I don't expect anyone to fight with a heavy wooden cart or even with something like a canvas wheelbarrow (lightweight but useless).
Although steel may be heavier than plastic and will rust overtime, it is my first choice because, on the other hand, the plastic bucket will become brittle and crack.
How much will they hold?
Medium-sized wheelbarrows hold about four cubic feet, which I find a bit too small. Six cubic feet would be better, and it is not just a cute toy for the garden than, but a tool you can work with.
How many wheels do I need?
Traditional wheelbarrows have a single wheel at the front, and therefore it is easy to dump your loads, but it needs more strength to handle them.
With a second wheel, the cart is more stable, and heavier loads are easier to handle, but it can be harder to maneuver.
However, there are carts with more than two wheels, but I think the handling of them especially dumping loads could be a bit complex.
How much should I spend on a wheelbarrow?
Many quality products offer a lifetime guarantee, so why not spent a little bit more to get a quality tool? The best wheelbarrows will not be the cheapest, but by investing more money in a tool that will accompany you for many years, costs shouldn't be of prime importance.
As always, lightweight and maneuverability is a must for essential garden tools and the sake of your back.
Buy a so-called contractor tool and run away from hobby tools or cool-looking and expensive gadgets.
My recommendations:
Watering Equipment
Roses like any other plants need watering to show their full beauty. Of course, roses will thrive although neglected, but neglected plants are attractive to diseases and pests and that's the last thing we need.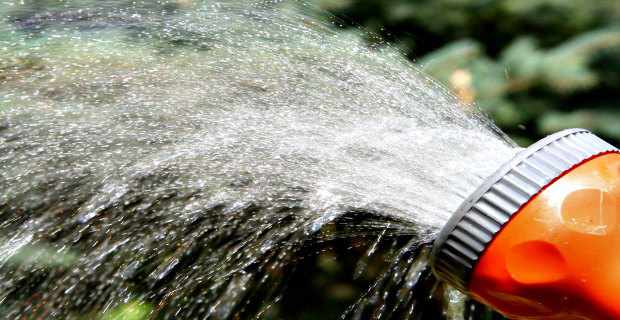 You can do the watering with a can or a bucket, but in the long term, it wastes too much time to do so.

Anyway, a hose pipe should always be part of your essential garden tools.
Depending on how big your garden is and how much time you can afford to do the daily watering, several possibilities can be considered.
Garden hoses and irrigation systems for any size yard.
Other Useful Gardening Tools
A spade, a rake, a cart or a hoe are garden tools every gardener needs, regardless of rose gardening or vegetable gardening.
Alongside these tools, other tools can be very useful, although they are not essential.
Knee Pads and Gardening Stools

Did you find this helpful? Share it with your friends!