Garden Arbors 
Garden arbors add a touch of elegance and class to a garden and is excellent to show the beauty of climbing roses
Photo courtesy of Pamla J.Eisenberg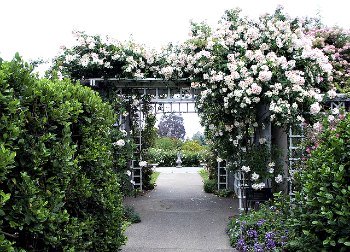 An arbor for roses simply belongs to a garden. A rose-covered arbor will set an extraordinary accent to entrances, backyards or pathways. Your neighbors will go green with envy.
Choosing the wide and height of the structure, you always have to be clear, that bigger garden tools like garden carts or lawn mowers should fit through the alley without being bothered by canes or flowers growing through the structure.
I would recommend choosing a structure with an opening more than 5-6 feet. The pass line height should not be less than 7-8 feet.
Always keep in mind that the roses will narrow the passage and a planed width of 5 feet easily can dwindle to 3 feet.
Because of the many designs and materials of arbors and arches, carefully consider what kind of arbor fits to your garden.
Garden Arbor Designs
Depending on the style of a house for example a cottage style or Italian style house, you should choose a structure that fits to the overall appearance.
Keep in mind that an arbor will need maintenance work over the years. A wooden design may look great, but after few years, it will need fresh painting. Believe me, it is a lot of work to unwind the roses from the structure, remake the garden arbor and wind up the climbers again.  

Metal Garden Arbors and Arches
Metal designs are very practical but still nice and unobtrusive, leaving the beauty to the flowers. Most of them are coated in dark epoxy and weather-resistant.
I like this kind of arbors, because they are quick and easy to assemble and maintenance work tends toward zero.
Choosing a metal design, please check the coating of the structure is weather-resistant and long living. It is always an eyesore to spot an ugly, rusty piece of scrap metal in the garden.
Wooden Arbors and Arches
Because wooden arbor constructions must be solidly built, they can look a little bit clumsy and will not fit in every garden. If you have wooden fences, pergolas or the environment is asking for wood, then go for it.
A solid build wooden arbor in the middle of the garden, planted sparingly and nearly without flowers and foliage looks like a giant lawn gnome lost in the garden. A solid construction needs flowers and leaves to become a garden highlight.
Tip
It is important for a wooden construction to arrange the wood does not get in contact with wet ground. That will cause the wood to rot at the base and the whole construction will soon be unusable.
Mixed Materials
Although it is a lot of work, I am a fan of natural stone walls and pillars. Together with a top made of wood or steel, it can make a fantastic look. However, be cautious. Natural stones do not fit in with every house style and mostly suggest an effect of compactness.
If you are not a master of this trade, it is better to employ a professional to work with stones.
Want to build it by yourself? Please plan carefully, and do not forget the footing (in colder regions frost-free).
How To Build Wooden Garden Arbors
As constructions made of wood can be very expensive and the cheaper ones look awkward and will never meet your idea of a nice rose arbor, why not build them by yourself?
I have found a wonderful project posting of a do it yourself arbor with an easy to follow 6-step explanation.   


Did you find this helpful? Share it with your friends!