Knockout Roses
The very popular and easy to grow, disease-resistant Knockout Roses are probably the best way to start with rose gardening.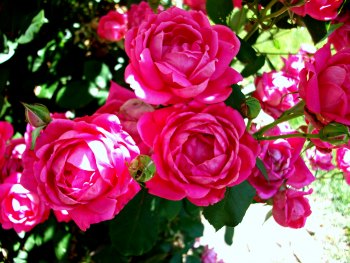 Photo courtesy of mymble5
Planting a rose from the Knockout family does not mean to neglect everything we have learned about rose care.
A sunny site, well-drained with sandy-loamy soil is still the best way to start growing roses. Although Knockouts are considered to be low maintenance and disease-resistant roses, the plants are not maintenance-free and need food to bloom in the vigorous way they are expected. No food (fertilizer) means no or fewer flowers.
Anyway, the rose requires minimal care. You don't have to spray or fuss over them to keep the flowers blooming all the time.
Plant the Knockout's in mixed beds and borders, as a hedge, individually among shrubs or other plants. They will do well everywhere.
If you think the flowers need pruning, prune them in spring after the frost period, as I recommend in my Knock Out Rose Pruning-guide.
Varieties of Knockout Roses 
Each of the Knockouts have their unique look, and choosing them will add significant results to your garden.
I will list some of the most popular varieties starting with the classic red Knock Out Rose Bush.
Knockout Single Red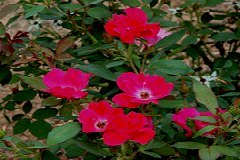 This original Knockout rose produces cherry red blooms all through the flowering season. The plant is black spot resistant, self-cleaning and drought tolerant.
One of the best low maintenance roses to grow in your garden; the plant grows well in zones 5-10 up to 3-4 feet tall.
Buy this rose here.
Photo courtesy of Dog McAbee
Double Knockout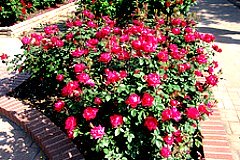 This new variety comes with pink or red colored blooms; its full, classic rose look fascinates many gardeners. The plant is self-cleaning, hardy and pretty maintenance-free.
The rose is resistant to common diseases and grows best in zones 5-10 up to 3-4 feet tall.
Buy this rose here.
Photo courtesy of Inga Munsinger Cotton
The Rainbow Knockout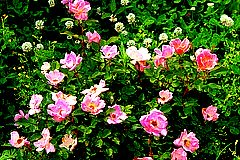 This plant with its multicolored, coral-hot pink blossoms and yellow center is one of the most disease resistant rose that can be found. As the classic Knockouts, the Rainbow is self-cleaning, winter hardy and maintenance free.
New foliage is deep-burgundy, when aging the leaves turn into dark green. The plant grows in hardiness zones 5-10 up to 3-4 feet tall.
Photo courtesy of Powell Gardens
Blushing Knockout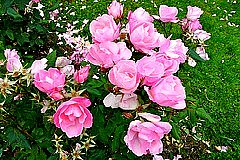 The light pink blossoms of this rose turn into shell pink as the blooms age. The flowers have the same attributes as the other roses from the Knockout-family and bloom profusely even in humid climates.
This massive flowering rose-bush grows up 3-4 feet tall and delights every garden from zones 5-9.
Photo courtesy of Terry's Photos
Sunny Knockout Rose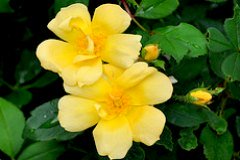 The single-petal roses show bright yellow blooms, which stand out against the dark, semi-glossy foliage.
The plant will produce continuous blooms throughout the growing season, is disease resistant and hardy in zones 4-9. Their natural high will be 3-4 feet. The rose is drought resistant.
Buy this rose here.
Photo courtesy of University of Maryland Arboretum and Botanical 

Did you find this helpful? Share it with your friends!