When To Plant Roses
Best advice for your region: Ask your local Rose Society when to plant roses in your area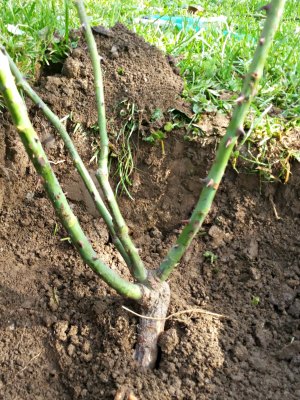 An old wisdom that often falls into oblivion says: "The best time to plant roses is the fall!"
That especially applies to the classic bare root roses, although you can buy them nearly the whole year.
Planting is always possible, if the ground is frost-free.
But a fall-planting has the advantage of a still warm soil, where new roots can develop easily and give the roses a head start in spring.
Roses planted in spring will not meet the growth and bloomage of roses planted in the fall.
Other Considerations When to Plant Roses
The funny thing is that everybody even the garden centers believe, that planting time for roses is the spring. That's why many garden centers even Online-Rose-Shops put their roses on sale late summer/early fall.
I don't mind, I won't even tell them; I'll take the offer and give my roses a head start in spring.
Aside from bare root roses, the so-called container roses can be bought the whole year.  And again, the same simple scenario: Late summer and fall is the best time to plant roses.
I don't use any fertilizer for the fall-planting time, because I don't want to push the growth. Just let the roots set up well, before they shut down for winter.
What About The Different Climate Zones
Of course, I haven't forgotten to talk about the different climate zones. If I have to answer when to plant roses in different parts of the country, even of the world, the answer will always be the same:
Only the months for the planting times will differ. The big exception may be the North where cold winters come on quickly and early. Frost-free springtime would be the better choice for planting.
And don't forget to ask the guys from the local Rose Society. Let me know their answer, I am curious about it.
The Right Time For Planting
In case you follow my recommendation and plant the roses in fall, I would say 1.0-1.5 month before the first frost come in is the best time to plant. The soil is still warm from the summer and enough rainfall will allow the plants to grow accurately.  
Presuming you know about the frost-time in the region you want to grow your roses, it will be easy to find the right time for planting.
The best planting time in spring depends on a frost-free ground and of course on the region you live.

Did you find this helpful? Share it with your friends!