Noisette Rose
Many of the slender and elegant long shoot Noisette Roses can excellently climb into trees
Early 19th century, a rice farmer in South Carolina crossed a 'Rosa Moschata' with 'Old Blush' a China Rose.
One of these seedlings became the original form of the Noisette variety. The farmer called it 'Champney's Pink Cluster' and left the new variety to his neighbor Philippe Noisette for propagation.
Facts About Noisette Roses
Almost all Noisette Roses show climbing and strong growth. They adorn themselves with decorative, large, glossy foliage and numerous clusters of petals.
Their thorns are strong and curved but appear only sporadic on the shoots.
Because of being crossed with a yellow Hybrid Tea, the yellow dominates in all nuances. White, peach- and orange shades are common too, but pink and red roses rarely occur.
Most varieties are susceptible to frost and need to be sheltered at chilly locations.
A word to pruning
Pruning roses always seem to be a bit confusing. Even if you do not cut them, they will give you lots of joy. Nevertheless, pruning will shape the bushes, and the roses will show plenty of flowers.
On once flowering old roses, it is best only to cut old and diseased wood and maybe after several years a rejuvenating pruning.
Make Your Noisette Rose Choice
Blush Noisette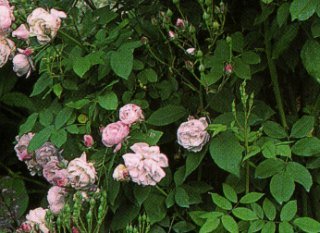 The Ancestral-Noisette-Rose is still widely grown today. Their flowers appear continuously until fall.
The shoots are nearly thornless, but witch rich foliage.
The shrub is cold tender but disease resistant and is best for warmer climates (Zones 6-11).
The small purple buds open into blush pink blooms which spread a spice scent.
As a bush they grow up 5-8 feet and climbing, they can reach up to 14 feet.
Madame Alfred Carriere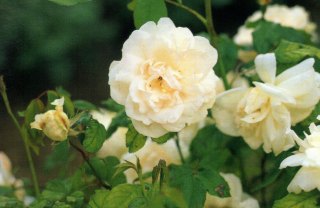 A reliable, excellent old rose. Grown as a climber she will cover a whole house wall, or as a stand-alone shrub, this rose will always delight your garden.
Best for zones 4-10, she is one of the hardy Noisettes and disease resistant.
Its pinkish-white large globular blooms, with pink tones in heart, spread a delicate sweet scent and show continuously all summer long. 
As a climber, this variety can grow up to 18 feet.       
Marechal Niel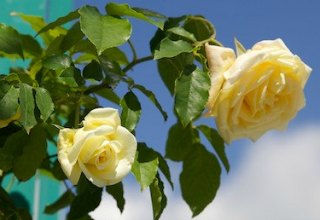 Once a trendy flower, today a virtu. The plant appears tender and fragile, and named after a French general seems to be improper.
A lovely rose, but only once blooming in early summer and loves warm climate (Zone 5-11).
Her light yellow globular blooms spread an excellent tea-rose-scent.
The rose is a vigorous climber and can grow up to 18 feet.          
Rose Gardening

›
Old Roses
› Noisette

Did you find this helpful? Share it with your friends!