Climbing Rose Varieties
Especially in small gardens Climbing rose varieties create charming highlights if planted with imagination
It sounds awkward that tall roses do not need much space, but they deliver an abundance of flowers compared to the space they need.
Climbers are roses with long shoots, they depend more or less on climbing aids. 
You have the choice among those who will exceed six feet with difficulty along with others, for whom eighteen feet is not an obstacle.
How To Deal With Climbing Rose Varieties
To climb, these roses need a footing, they cannot hold on their own. They do not have any holdfasts and cannot work their way upward.
Climbers get firm shoots, which allow them to grow to six feet without support before the shoots start to overhang.
The long shoots must be trained at an early stage as long as they are flexible because the shoots lignify when aging.
Discover how to train climbing roses, support structure ideas, gardening materials and much more in a breath.
Select The Best Climbing Rose Varieties
Before you decide which Climber you choose, make sure it will fit to your support such as an arch, arbor, fence, wall or trellis.
However, we will have some more distinguishing characteristics of climbing roses such as the color, once or repeat blooming climbing varieties or their disease and frost resistance.
Red Climbing Roses
Amadeus

®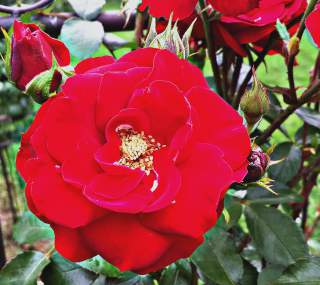 The very healthy rose with dark red blooms, by the German breeder Kordes, is a vigorous grower.
The large, slightly fragrant red flowers, produced in clusters, repeatedly bloom all season and the shrub shows  glossy, dark-green foliage. 
The rose achieved three golden medals at international competitions.
This Climber is superior resistant to black spot and mildew  and easy to care, what made her winning the hearts of local gardeners. 
With a suitability for the USDA climatic zones 6-8, the climbing rose Amadeus® only needs some winter protection in extreme locations, particularly in the root neck.
Grows to a height of 10 feet. 
Dortmund Climber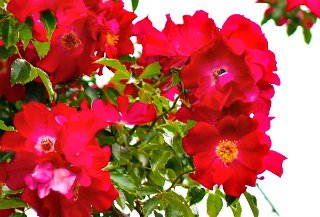 Large crimson blooms against dark green shining leaves are the special highlights of this classic beautiful breeding from Kordes.
This robust beauty convinces not only by her up to 3.5 inches big flowers but also by its climbing and flowering skills from summer far into fall.
The flowers form dense, beautiful flower-pillows. In front of the dark-green, glossy foliage with small, wavy individual leaves, the colorfulness shows its advantages. The rose is filled with strong thorns.
Even if the Dortmund Climber is frost resistant and suitable for rough locations, it prefers a sunny place in loamy, nutrient-rich soil.
A trellis on the sunny side of the house is as perfect for her as an arbor. The flower is considered particularly resistant to black spot and mildew. 
Grows to a height of 11 feet or more in warmer climates.
Altissimo Rose
A still very popular rose introduced in France 1966. The vigorous flower with its large 7-8 red petals shows bright-yellow stamen in contrast with their bright-red blooms.
The easy to care shrub with its dark-green foliage is very healthy, repeat flowering and slightly fragrant.
An excellent climbing rose to cover a wall, a fence or to train on a pillar or a pergola. Grows to a height of 10 feet and is perfect for growing zones 5-9.
White Climbing Rose Varieties
Ilse Krohn Superior

®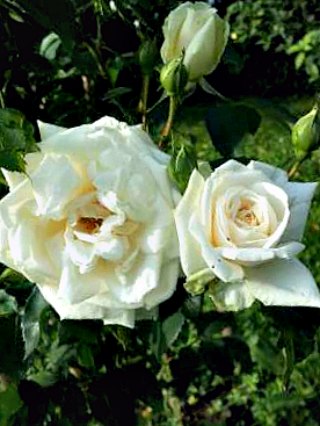 Another excellent climbing rose variety from the German breeder Kordes. The bright buttery yellow color of the blooms, which migrates into a bright, warm cream whiteness gives a good idea of the delicate coloring of this climbing rose, which produces excellent, long lasting cut roses.
The pleasant scent and the shape make the flowers of the climbing rose Ilse Krohn Superior® exceptional.
The elegantly shaped flowers appear in clusters and are with up to 20 petals still elegant and slim. In fall thick, round rose hips in warm-orange develop and a special extra to the garden. The foliage is large-leaved, dark-green and glossy.
Ilse Krohn Superior® forms stiff, strong shoots which reach a height of up to 10 feet.
Occasionally the foliage is attacked by powdery mildew or black spot, but the powerful plant regenerates itself. Their frost resistance is grouped in the USDA zone 6b.
Climbing Iceberg Rose
This climbing rose variety transforms each trellis into mountains of white flowers. Because of the pure white with rose-colored shadows, the flowers appear particularly vividly in the crosslight.
The buds are slim and pointy like a wild rose bud and have the matching soft pink, which animates the whole rose bush.
The flowers are arranged in clusters of 3 to 5 on the stem and adorn the rose from June to September.
The particularly long shoots of this rose barely have thorns.  With a length of more
 than 15 feet, they are extraordinary vigorous. Therefore, the Climbing Iceberg is suitable for growing over old trees or high walls.
The light-green foliage with medium-sized leaves is healthy and forms a beautiful fresh background to the slightly creamy white flowers. The rose is extremely frost resistant.
Yellow Climbing Rose Varieties
Golden Gate

®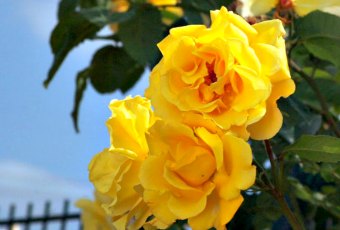 This golden yellow floral wonder was raised by a family member of the well-known German breeder Kordes.
Since its introduction, this climbing rose has won many awards and prizes, including the ADR award (A test based on characteristics such as the effect of flowering, fragrance, growth form, rich flowering, cold hardiness. The most important criterion for evaluation is resistance to leaf diseases).
The Golden Gate® is the perfect yellow rose for arches and columns.
Their flowers are initially deep golden yellow and change into bright, pure yellow when blooming.
Thickly filled with many ruffled petals, the large-bowled blossoms open and show a wreath of dark-yellow stamens in the middle. 
By about 3.5-inch big flowers, which appear in clusters of 5 to 10, the whole rose flowers with wide, bright, rich blooms several times a year. An intense, fresh lemony fragrance embosoms the whole plant during florescence.
The foliage is medium-sized, dull-shining, with densely growing, large leaves, which are extraordinarily healthy. The foliage also mostly remains at the rose tree during the winter.
With a rating for the USDA climate zones 6b to 9d, the Golden Gate is suitable frost resistant in most locations. However, the first shoots should be protected from late frosts.
The vigorous shoots preferably descend upward. They quickly reach a height of up to 10 feet with a width of up to 3.5 feet.       
Golden Showers

®
Real cascades of large flowers are the highlight of the Golden Showers®. It is a breeding masterpiece from the American rose grower Dr. Walter E. Lammert.
In diameter up to 6 inches, the generous appearing blooms cannot be outperformed in size and luminance. The pale-yellow petals form large, half-filled open cups with decorative, golden-yellow stars of stamens in the middle.
The buds are colored in dark-yellow, long and noble. When blossoming, this rose gets brighter and blooms in a sunny, creamy-yellow and spread a light tea rose scent.
This climbing rose variety blooms tireless from June to the end of the summer.  The flowers clean themselves well while fading, and turn into thick, spherical, bright-orange rose hips.
The Golden Showers® is vigorous, reaching a height of more than 12 feet and covering walls almost 6 feet wide. The shoots are strong and have few thorns.
This rose can also be used as a free-standing bush or grown on trellises.
The foliage is glossy medium-green and extremely resistant to all rose diseases.
It is hard to believe that such a fantastic climbing rose is particularly suitable for shady sites.
In addition to these qualities, the rose is classified in the USDA climate zones 3b to 10b and is also exceptionally frost-proof.
Orange Climbing Rose Varieties
Warm Welcome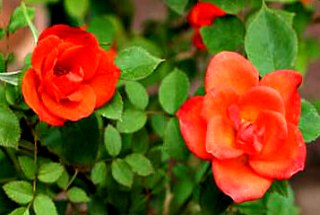 As the name suggests, this highly scented climbing rose is particularly suited to growing at the entrance of a house.
This climbing rose entwines up to 7 feet and has exactly the right height for an entrance door.
The color is an amazing bright orange with yellow ground, and with an average of 9 petals, the blossoms are slightly filled. The flowers grow individually or in small groups at the ending of numerous lateral shoots over the entire summer to late fall.
The leaves are remarkably resistant to rust on roses, black spot and powdery mildew.
Their cold hardiness, suitable for the USDA climatic zone 6b, makes the small-flowered climber very attractive for garden lovers.
Pink Climbing Rose Varieties
High Hopes

®
The special feature of the strong pink blooms is the delicate yellow glow, which shines from the base of the flower.
The 3-inch single flowers of the rose are nobly formed, with 25 to 30 petals well filled, and grows in several loose clusters.
The solid shining leaves are usually spared from all rose diseases. This rose is reliable repeat blooming; its flowers are rainproof and wind resistant.
The thorny, strong shoots grow quickly to a height of 12 feet. Their cold hardiness is specified by the USDA climatic zone 6b and suitable for most gardens.
Kir Royal

®
The Kir Royal® climbing rose belongs to the group of "Romantica Roses" cultivated by the French grower Meilland.
Because of its overhanging growth and the magenta-pink blooming, the Kir Royal® reminds of the sparkling luxury drink.
If you take a closer look, you will see the typical, unique drawing on the half-filled, approximately 3-inch large blooms. On every delicate, pink petal is a field filled with tiny, dark pink shading.
In clusters of up to three flowers, this climbing rose shows her romantically shaped blooms from June to September. The fragrance is only slightly noticeable, but the flowers are very resistant to rain.
The primary blooming is lavishly luxuriant, while the late blooming is less intense.
The pastel-green foliage is exceptionally resistant to diseases. In fall, the rose also enjoys with the bright-orange fall foliage. The shoots of the rose are vigorous, powerful and reach a height of 11 feet.
In 2002, this beautiful climbing rose received the popular ADR award.
Rose Gardening

›
Climbing Roses
› Climbing Rose Varieties

Did you find this helpful? Share it with your friends!